Since 2009, Techzo has provided customers with excellent WordPress and logo design services. We are proud to be one of the leading web design companies in Chicago and the United States. As web design continues to play a critical role in how customers find businesses, we strive towards excellence in all aspects of web design.
In a recent testament to our abilities, we've received a new five-star review on Clutch, a leading B2B ratings and reviews platform. They use a unique methodology involving verified client feedback to create connections among trustworthy businesses. Buyers can also learn industry news and gain important insights on the marketplace.
During the project, we designed and developed a new WordPress site for a tax firm. We also supported the firm's SEO and Google Ad campaigns.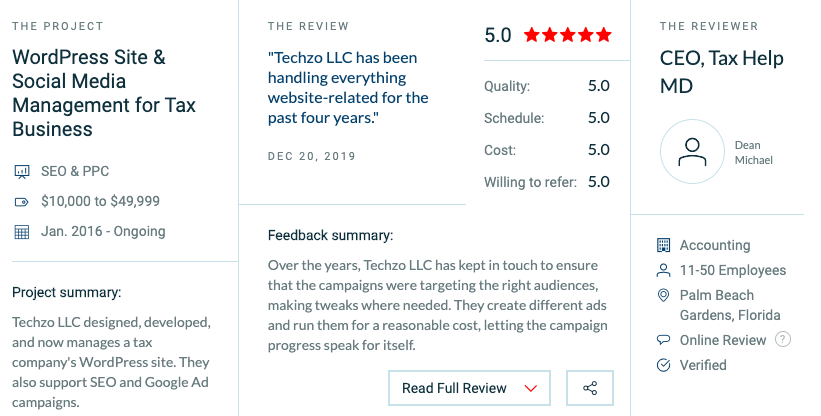 We received five stars across the board for our work. Our team was lauded for its versatility and value.
"He did a great job keeping in touch with us to get feedback from the Google Paid Ads he created," said Dean Michael, CEO of Tax Help MD. "He wanted to be sure we were getting the clients we were looking for… They are always quick to respond to any questions I have and keep me updated on their progress."
So far, we have a perfect five-star rating on Clutch, making us one of the top agencies in Chicago. In another recent review, we provided website development for a nonprofit foundation. Once again, we were commended for our flexibility, responsiveness, and diligence.
Once again, we were commended for our flexibility, responsiveness and diligence.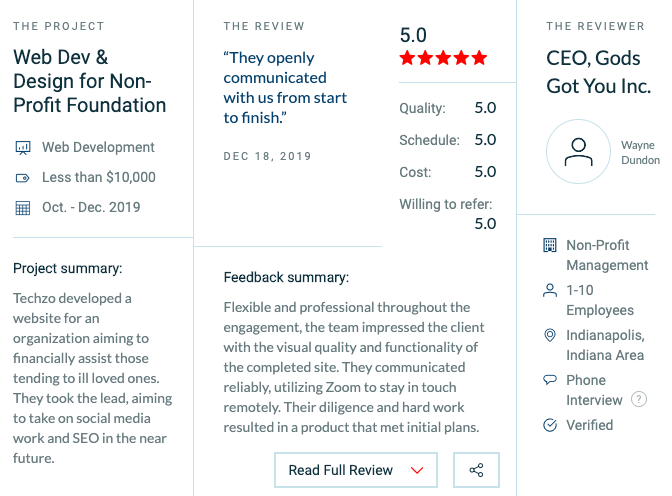 Since there are so many options out there for SEO and web design, finding the best partner for your business can be difficult. Our work can be found at The Manifest, a leading news source, business blog, and how-to guide for new entrants to the B2B space. They provide invaluable research and insights for users by displaying completed projects and business rankings.
We're also proud to be ranked among the top SEO agencies in Illinois on The Manifest.
Companies also be found at Visual Objects, an online portfolio platform that highlights companies in a visual format. Their portfolio listings make finding great businesses simple.
If you are looking to get started on an SEO project, feel free to reach out. We'd be more than happy to help you grow your online presence.