Over the years, digital marketers have developed clever strategies to better inform, attract, and convert more prospects and channel the accumulated traffic into their sales funnels.
But consumers have evolved too.
Today, everyone understands the purpose of a marketing team. People are not so easily convinced to fall for every landing page they stumble upon and every product description that comes their way. What they persistently trust, though, are other customers who vouch for the products or businesses in question.
And that's where social proof comes in. Companies can leverage their previous customer relationships to showcase compelling social proof to their potential customers and inspire conversions.
Read on to learn how social proof works and how you can best utilize it to build trust and simply sell more.
How Does Social Proof Work?
When it comes to purchasing a product or a service, customers are naturally drawn to the experiences of others. How did they discover the product/service? Why did they decide to make a purchase? What benefits did it have for them? Were they satisfied with their decision?
Social proof helps provide answers to these questions, and sometimes, all it takes is a positive example to convince a potential customer. As soon as prospects who are interested in what you're selling notice someone testifying they had a positive experience, they become more trusting of your brand and willing to do business with you.
Of course, there are many strategies and different ways to use social proof. As a marketing specialist, or even if you optimize your own landing pages, you need to be smart and careful with which social proof practices you use for your business, how you use them, and where.
Misuse or misplacing social proof elements can be ineffective and, in fact, might have a negative impact on your conversion rates.
With that in mind, let's move on to the best social proof practices and how to properly use them.
1.Showcase Prestigious Customer Logos
Whether your business is a B2B or a B2C company, everyone will appreciate the fact that you've worked with some of the top companies in your industry. This tactic is especially vital in the B2B landscape. Showcasing that highly-valued industry leaders required your services or bought your products proves that you've got what your prospects need.
A fantastic way to leverage this is to display the recognizable logos of your top clients on your landing pages or your homepage. Here's how Affinda, a company that provides AI solutions for businesses, does it: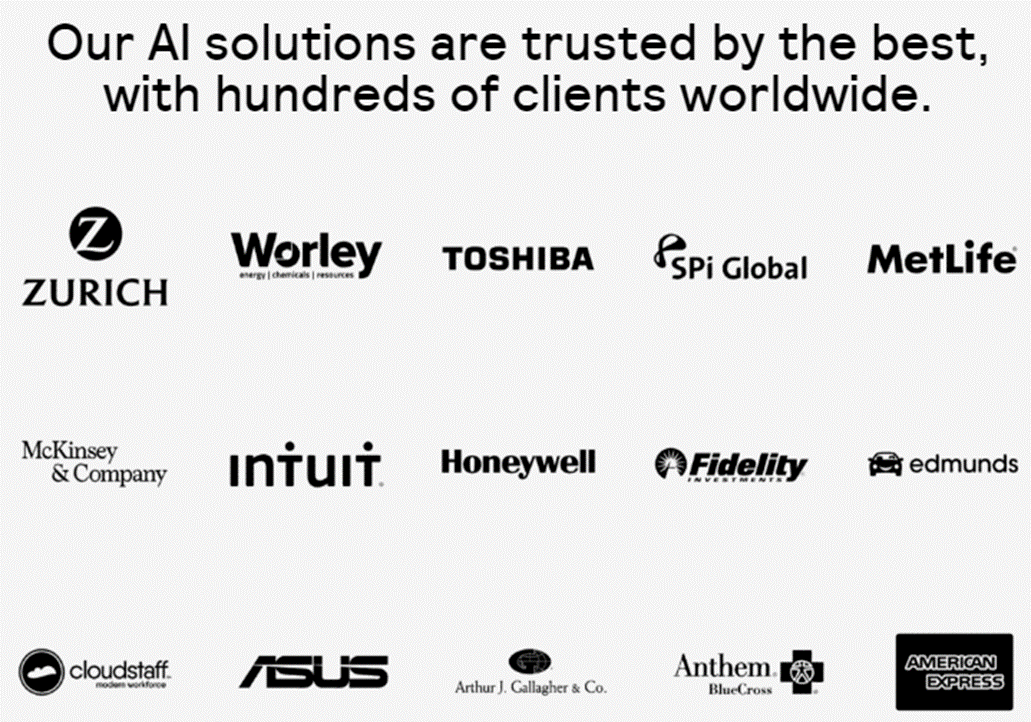 Source: Affinda.com
Notice how they prioritize the big names they've worked with. Everyone knows Toshiba, MetLife, ASUS, and American Express, and if these big brands trusted Affinda enough to become their clients, showcasing their logos stimulates trust in everyone else as well.
Another example is Trello, the famous project management platform. Take a look at how they included only seven of their biggest clients' logos to demonstrate that they're at the top of their league. They even incorporated another element of social proof in the same section to reinforce additional authority in their industry – a number showing how many clients they served.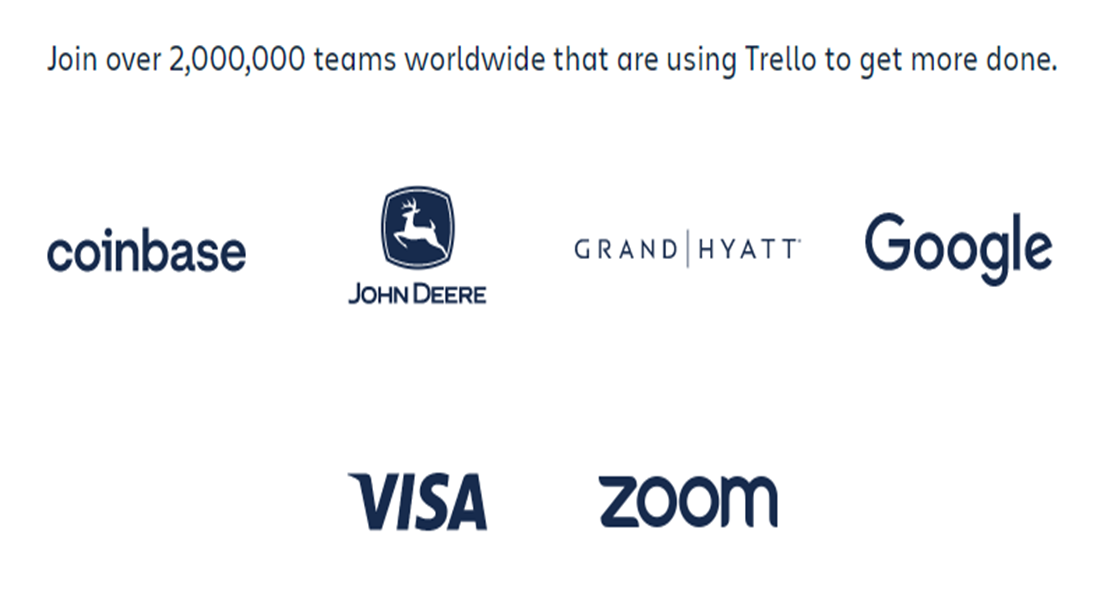 Source: Trello.com
It's best to showcase the logos of your prestigious customers in a section somewhere near the top of your landing page. This method serves as an excellent attention-grabber that will engage your leads and convince them to stay on your website.
2.Feature Customer Testimonials on Your Homepage
If you've generated a decent number of clients, it's a great idea to invite them to write short testimonies about their experiences with your business.
Your next task is to carefully curate which testimonials you'll display on your landing page.
The details of the testimonies will help you pick out the most suitable ones. You want to pick those that describe what your business does and how it helped customers achieve their goals. Select relatable testimonies that speak about the quality of your product or service and how exactly it solves certain problems.
Kopi Luwak Direct does this excellently. They've curated testimonials that speak about the authenticity and quality of their products, from details about production and logistics to praises about environmental impact and customer service.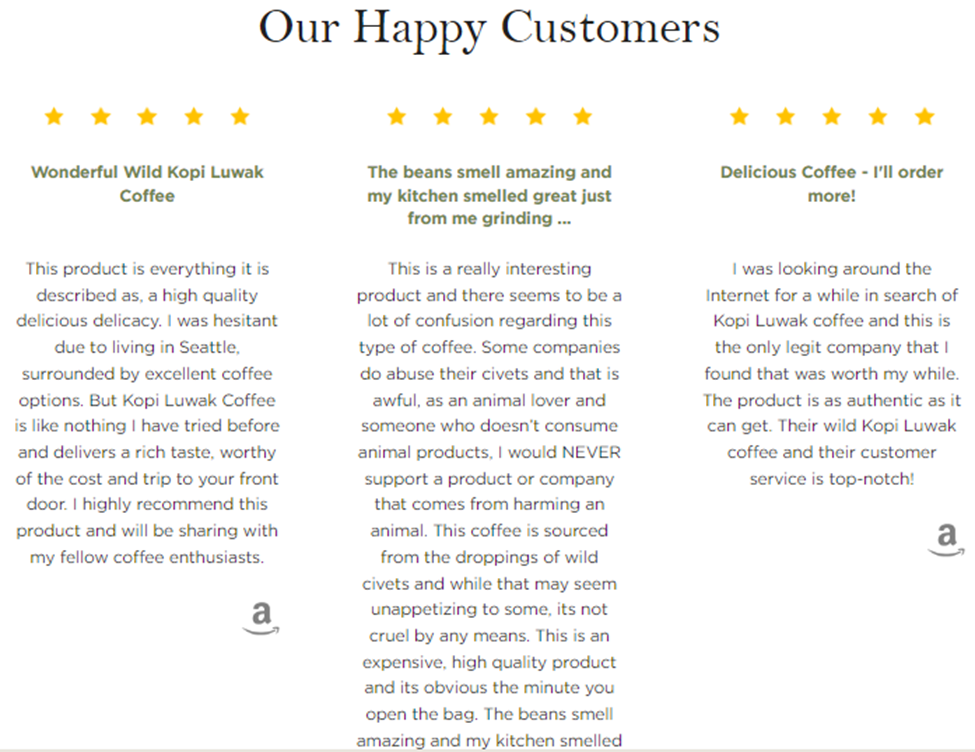 Source: KopiLuwakDirect.com
Next, you can utilize the power of this social proof aspect even more by making sure to prioritize the testimonies of renowned clients that are authoritative in their industry. Include their pictures, names, the name of their company, and their roles, as you want to accentuate their legitimacy and come across as a credible service.
OptinMonster did really well in that regard. Browsing their selected testimonials, you can clearly notice that the best practices for this type of social proof are carefully implemented.
3.Combine UGC with Customer Reviews
Customer reviews are, in essence, similar to testimonials. They provide information on how satisfied customers are with a business. The difference is that they are mostly used for products and local businesses rather than services and are often posted on review sites such as Yelp, Amazon, Trustpilot, Google, Facebook, etc. In contrast, testimonies are directly provided to the business or told by customers on their own online handles.
The social proof practice in this regard involves digging around the internet and mining valuable reviews to include them on your landing pages.
However, there are no rules to this game. So, you can go one step further and provide a review section on your business's website and all of your product listings.
UAG does this elegantly, placing the highest-rated reviews first. Their customers can easily take a look at all of them and make a quicker decision to purchase their products.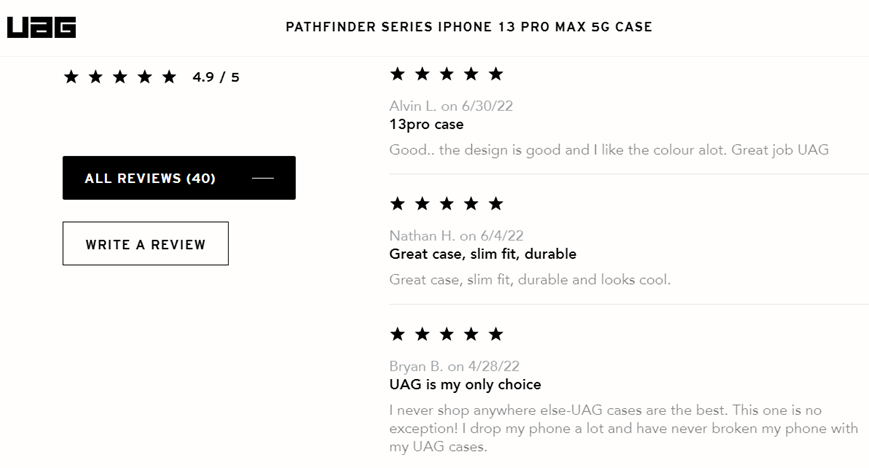 Source: UrbanArmorGear.com
Another example is Fire Pit Surplus, a company selling fire pits and related products. They stepped up their game and combined user-generated content with their online reviews, allowing their customers to post pictures of their products. This way, prospects can witness their products in action.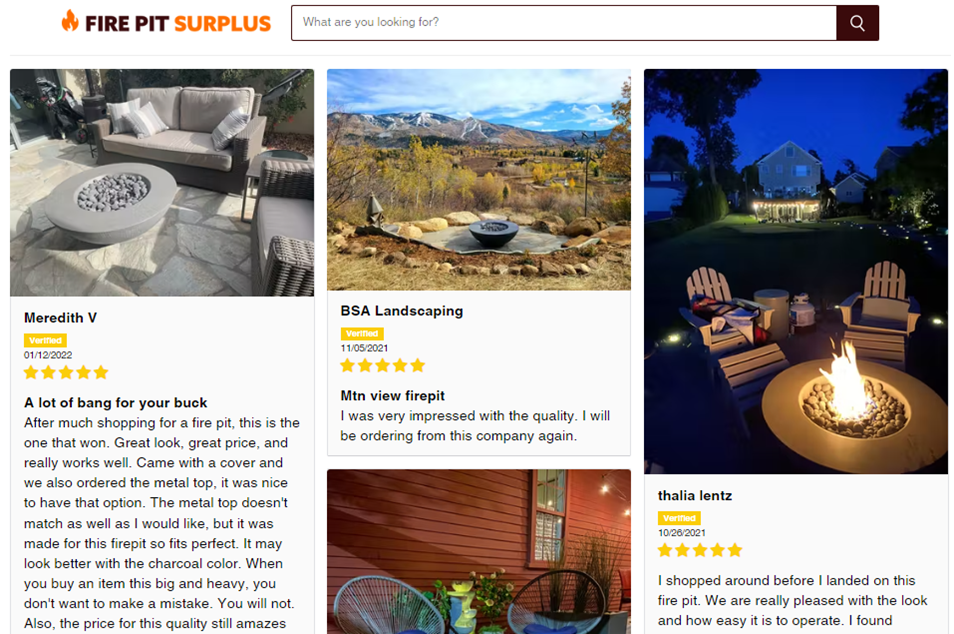 Source: FirePitSurplus.com
4. Don't Limit Product Reviews to Product Pages
The Siegel Research Center discovered that displaying reviews can boost conversion rates by a staggering 270%. With that in mind, it makes sense to incorporate your best reviews beyond your product pages.
Providing your customers with quick access to your top reviews even before they check them out themselves can boost retention and increase interest.
There are many ways to do this. You can plaster them in a small sidebar on your landing page or a box between sections.
In the example below, Dress Forms USA, a garment-fitting forms supplier, does this in a smart, non-intrusive way. They have a flyout on the left-hand side of the site that shows recent product reviews left by customers.

Source: DressFormsUsa.com
5. Integrate Star Ratings into Your Branding
Star ratings are usually a must when you sell products, and they are often displayed to serve as a stimulus for boosting buyers' confidence in your brand.
But, just like with product reviews, you don't have to limit your star rating only to your product listings. Allowing customers to recognize the 5-star worth of value that your business brings can be instantly rewarded. And you can do it right on your landing page.
Star ratings can be subtly but noticeably integrated into your branding. Your 4.8 stars from 9,734 reviews can't possibly mean that your product isn't worth your customers' money.
KURU Footwear shows it directly in their site header, minimizing the risk of prospects who'd rather take a few glances and abandon the page.

Source: KuruFootwear.com
Juro, the contract automation toolkit for teams, neatly places their star ratings from online reviews on the first screen of their homepage. Their job is to bring the spotlight back to the call-to-action button that is positioned right above them.

Source: Juro.com
Wrapping Up

Researchers at Nielsen showed that social proof is still very much alive in 2022. Over 67% of US consumers believe that brands with overall positive consumer opinions posted online are worthy of their trust.
That's a big enough reason to leverage the power of consumer relationships and incorporate social proof in your marketing strategy.
We hope these five social proof best practices gave you enough ideas to implement in your own business. The sooner you start using them, the sooner you can expect better conversion rates.