Whether you're a brand spanking new company, or an established business looking for a graphics facelift, hiring the best graphic design company available to meet your needs is vital for your continued growth and success. Of course, that doesn't mean that there's only one best graphic design company out there. There's bound to be "the one" for you, though. Finding your best graphic design company can be a little like going on blind dates.
Good graphic design is all about fitting the brand. And there may be more than one option that could potentially work well with your business. So how do you whittle down the competition and find the absolute best graphic design company that can make your brand identity stand out from the crowd?
Let's take a look at five invaluable rules for hiring the best graphic design company, period.
Set Your Standards
Finding a graphic design company is really like hiring any other company to do any other job. It's important to know exactly what you want from them. What do you expect your graphic designer to bring to the table?
A vague, hazy idea is nobody's friend. It makes it nearly impossible for a graphic designer to estimate budget and timeline, not to mention give them the assurance that they can deliver what you're looking for. And, ultimately, it doesn't do your business any favors, either.
Take the time to do your research. Check out other businesses in your market. Analyze what makes their graphics work, or why their graphics really don't work at all.
Know what you like, and know what your brand's personality is. A good graphic designer will work in harmony with the personality presented by your company as a whole, so it's important to be able to present that knowledge to the designer up front.
Know what the project includes. Graphics design can cover a lot of areas, from logo design to business cards to marketing materials to company websites. Whether you want just a single piece of graphic design or an entire overhaul of your brand, it's good to make that decision beforehand.
You'll especially need that decision made before you put your creative brief together.
Compile A Creative Brief
The creative brief outlines what you want and expect from your graphic designer once they are officially hired. It should also include the projected budget, the timeline, and any research that you've done on the market. Also included in the creative brief would be the mission statement of the brand and other specifics about your company, such as personality and tone.
Make sure to outline specific requirements for the projects, such as any pre-decided color palette, font type, or general style. Since you've already decided the scope of the project in the first step, you can further decide how detailed you need your creative brief to be. Most briefs are one to two pages long.
If you're hiring your graphic design company to cover every aspect of your branding or rebranding, you may choose to do a general project brief, with smaller, more detailed briefs for individual aspects of the project.
Shop Around
It isn't hard to find graphic designers these days. Whether it's a local company, a bigger online business, or even a freelancer, the options are seemingly endless.
That's part of why it's important to shop around before you make your final decision. Check out what your prospective designer has already done, investigate her previous work and her portfolio.
You can even talk to those who they've worked with in the past, to get an idea of their process and how responsive and on-time they are with deliverables.
It's best to look for a graphic designer who has a demonstrable history with creating logo designs or website designs, or similar graphics.
Though you will further explore how well you may work together later on, this initial phase is the perfect place to get a gut instinct for a particular designer.
The next two steps will help to establish whether or not your gut instinct is right, this time.
Hire A Good Communicator
Another important aspect to look for in a designer, apart from how reliable they are and whether their aesthetic fits with your brand, is how professional they are in answering questions and communicating with you as the client.
This is especially noteworthy in view of the fact that you're probably going to need their services later on, past the initial design stage. Visuals often need updates and revamping, and retaining the same designer can help with the continuity and flow of the brand's identity.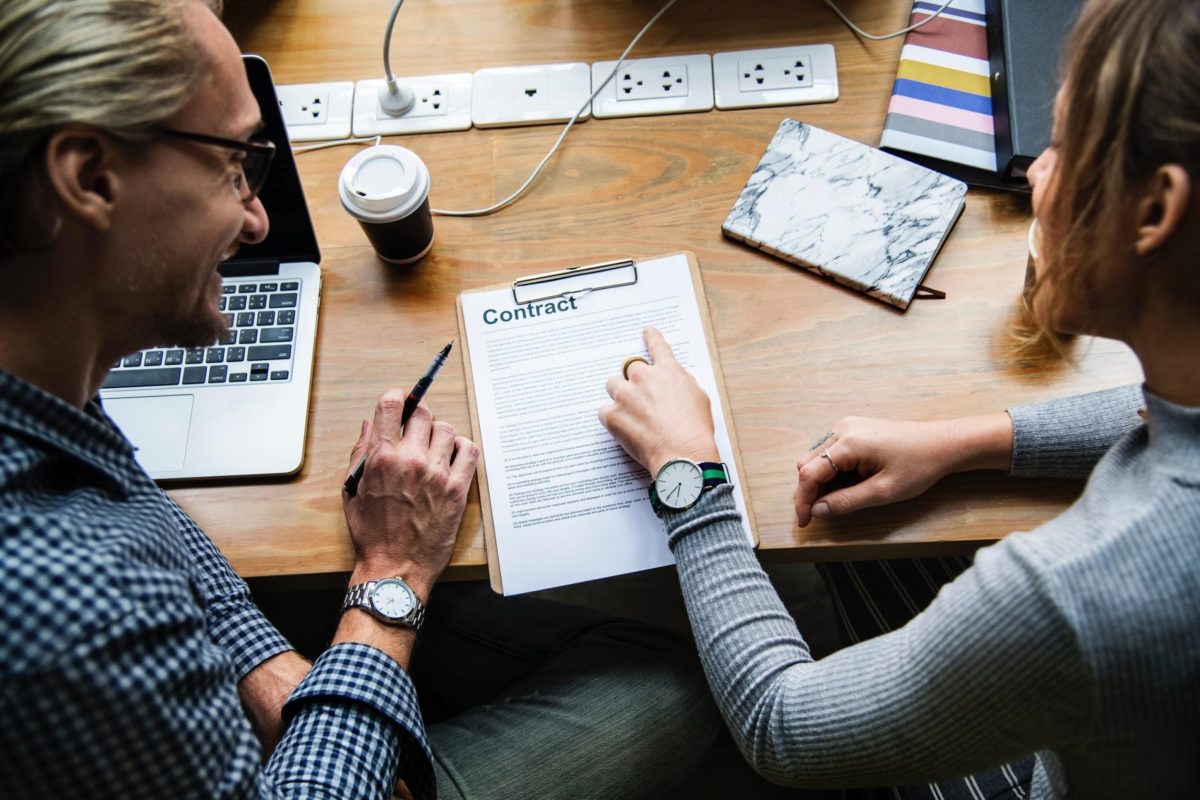 So before you sign a contract and commit yourself, take the time to find out the responses to the following questions.
Does your prospective design company respond quickly to your messages and questions?
Do they explain themselves well?
Do they understand the project and your brand?
Do they follow the creative brief and ask appropriate questions about the project?
Are they willing to work with you further down the line?
With a good graphic design company, the answer to all of these questions should be a resounding yes.
Set Up A Paid Trial
This isn't an absolute necessity, but it is definitely heartily recommended. Even after you've done your research and viewed portfolios, using a paid trial for a small portion of the project is a wise idea. This can further ensure that the tone, ethic, and aesthetic of the individual designer conflates well with your brand.
Since your relationship with your graphic design company will be ongoing and involved, the paid trial functions almost like a first date. It makes it clear whether or not you and the designer really have a future together.
Make sure the parameters for the paid trial are clearly stated. Put together a small creative brief for this project as well. And also ensure that you have an adequate budget for even the trial; graphic designers are trained experts, and allowing a proper budget shows respect for their work.
Respecting the process will also help to keep your further relationship on a good footing. For the growth of your business, for the survival of your brand, hiring the best possible graphic design company is vital.
Following these five rules above is your best shot at guaranteed success!