How to Differentiate Your Brand with Smart Marketing Choices
One of the most important things you can do to help your business succeed is to develop a branding strategy that allows you to differentiate your brand from its competition.
Now, in the real world, this is easier said than done. After all, there are hundreds, if not thousands of businesses operating in every single niche imaginable. And seeing how consumers can purchase products and services from any corner of the world, beating the competition becomes a true challenge.
But the thing is, differentiating your brand shouldn't be difficult. All you have to do is identify the marketing strategies that highlight the unique value you offer.
So, if you're ready to make smart marketing choices to differentiate your brand, the following are the tactics you should consider for your business.
Be Upfront About Your Brand Values
Brand values and purpose should be essential aspects of your marketing strategy and brand messaging.
According to Deloitte's 2022 Global Marketing Trends report, 58% of brands who witnessed a 10+% growth in 2021 did so, in part, thanks to articulating a set of values that guided employees in all decision-making processes. Moreover, 65% of organizations that witnessed negative growth last year failed to do this same thing.
Now, having a clearly defined set of values to guide your employees makes for an excellent start. However, to take your brand to the next level, you should also do your best to communicate your brand values with your target audience.
Consumers appreciate knowing that they're supporting purpose-driven brands. Even more, 63% of them make purchasing decisions based on whether the brand they're evaluating upholds values that align with their own.
So, knowing that your audience wants to know about the causes your business supports, an excellent way to differentiate your brand is to be vocal about those causes. 
Take, for example, Skillcrush. This educational platform was developed to make tech education accessible to anyone. And knowing that diversity means a lot to its audience, the brand takes its time to talk about diversity every opportunity it gets. This includes a long-term plan for anti-racism featured on its homepage, a blog section with several articles about inclusion in tech, and a social media presence that celebrates alumni from all backgrounds.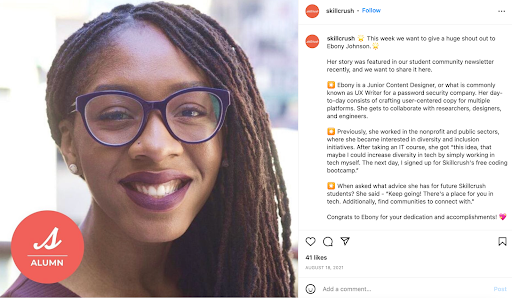 Source: instagram.com
Now compare this approach to Udemy, whose value proposition leads with the fact that the company offers courses starting at $13.99. It doesn't exactly say a lot about what the brand cares about. (Unless, of course, we count profits).

Source: udemy.com
Create Quality Control for Social Media
A well-defined social media presence is an excellent starting point when differentiating your brand from the competition. But here's the thing. Most marketers think that publishing any content is enough to grab audience attention, engage potential customers, and nurture relationships with existing clients to inspire brand loyalty and advocacy.
This is a mistake. After all, everyone should know that more does not necessarily mean better. When developing your social media strategy, try to prioritize value and consistency over sheer volume.
Impossible is an excellent example of a brand that prioritizes high-quality content over frequent sales-y posts. Describing itself as a company dedicated to helping its customers do the unthinkable – by providing them with the apparel they need to achieve it – Impossible does a tremendous job of inspiring its target audience to follow its dreams. 
It frequently publishes inspirational and entertaining video stories on its social media profiles. Moreover, it rarely uses these distribution platforms for hard-sell pitches, taking a unique path instead. It utilizes its content to reach its target audience. It builds authority in a competitive niche through sharing past experiences. And, it works to cement its position as an aspirational brand in a sea of competitors trying to convince people that the key to great adventures is owning more stuff.
https://youtu.be/nYTp2GEjhc4
Source: youtube.com
Make Measurable Claims
There's a running joke in the tech and marketing communities about Apple's product announcements. What's funny about the company's approach is that each new product it releases is lauded as being the "best yet." And, sure, some businesses can get away with promising the best results to potential buyers. But generally, this type of vagueness only works for players with decades of exceptional branding under their belts.
For small businesses and startups trying to stand out, a much better strategy is to make measurable claims. Especially as so many of their competitors fail to give specific information about the unique value they offer.
For instance, Vichy does this spectacularly. Positioning itself as a company committed to skin health science, it gives highly-specific information about what its products can do for buyers.

Source: vichyusa.com
As you can see in the image above, the brand lists the measurable benefits of using its prebiotic serum. What's more, it even states the number of people included in its clinical trial, as well as the length of that trial, making it super-easy for web visitors to decide whether this is the product for their needs.
Now, compare this to one of Vichy's main competitors – Avène.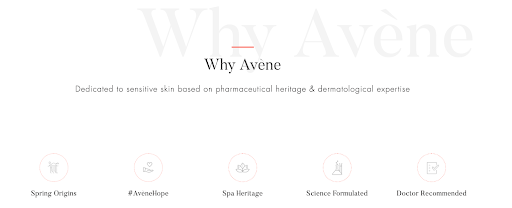 Source: aveneusa.com
The brand states that it's "dedicated to sensitive skin based on pharmaceutical heritage and dermatological expertise." And, unfortunately, it completely misses the point.
Yes, the sentence from the value proposition is a suitable marketing claim. However, it fails to help Avène stand out in a highly-competitive industry due to the single fact that the brand tries to win audiences over with
a claim that's impossible to measure and evaluate.
Be Easily Available
Do you know that customer experience is key to getting people to choose your brand when making purchasing decisions? According to Hubspot, 90% of people will buy more from brands with excellent customer service. And, 93% will be more likely to become repeat customers due to the same factor.
Knowing this, you can use your brand's availability as a way to set your brand apart.
For an easy way to be more readily available to your audience, do your best to comprehend how they want to communicate with you. According to Aircall's 2021 Ecommerce Customer Service Report:

87% of customers prefer to communicate with brands by phone.

83% prefer email.

72% like using chat to get in touch.
So why not make sure that you highlight all of these communication methods as a way to win consumers over to becoming your clients?
This is what GetSafe does on its landing pages. It includes a phone number and a chat window floating on the pages, ensuring that they're always visible, giving web visitors an easy way to get in touch with the brand's support team.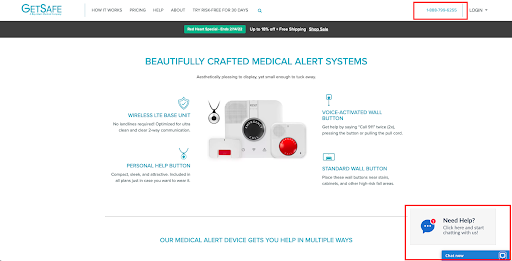 Source: getsafe.com
Now, imagine if the brand didn't provide easy contact points for its customers. We can guarantee that its conversion rates would suffer. After all, who wants to place their trust in a medical alert system provider who makes their clients lose precious time before they can get in touch – especially in case of an emergency?
Publish High-quality "How-to" Guides
Last but not least, if you want to help your brand stand out in a positive light, it's an excellent strategy to invest resources into producing high-quality content that offers consumers valuable information.
How-to guides and similar long-form blog posts are a great way to do this for several reasons.
Firstly, they solve your target audience's pain points and help them understand that your brand is a reliable resource of information in your niche.

Secondly, they emphasize your industry know-how and impress customers looking for an expert to meet their needs.

Thirdly, these posts help educate website visitors

and

boost your chances of converting them into customers

by as much as 131%.
So, if you want to differentiate your brand with a marketing technique that's easy to accomplish and offers a high ROI, try to identify long-tail keywords that people in the awareness stage of your sales funnel will be looking for. Then, put together a piece of content that will meet customer intent and impress users who need help from an expert brand such as yours.
For an excellent example of how you can do this, check out this guide to installing Lightroom presets by Preset Love. 
Sure, the brand's focus is selling pre-made presets. But it also understands that its potential customers occupy different positions in the sales funnel. So, to reach people in the awareness stage, Preset Love presents them with an informational guide that solves their needs and gives them ideas on how they can step up their Adobe Lightroom game by purchasing professionally-made presets for any use.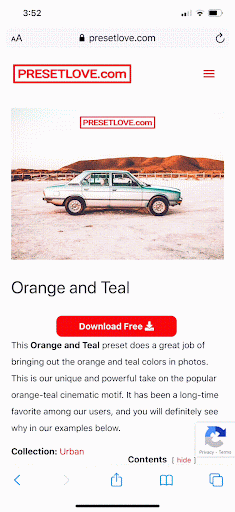 Source: presetlove.com
In Closing
An effective branding strategy doesn't have to be expensive or complicated. But it does have to be smart. And knowing what marketing choices to make to help your company stand out is the best starting point for helping your brand on the way to success.
The five tactics described in this guide are excellent ways for differentiating your company. So don't hesitate to try them out.
Of course, to get the absolute most out of them, you will have to adapt them to your unique needs. The personalized touch is sure to give you a noticeable advantage over your competition. So, don't be afraid to experiment a little until you nail down the methods that work best for you.