When it comes to your brand identity, one of the first things that your potential clients will think about is your logo. A well-designed logo is the front door of the company it represents. It is the representative of a business in design form. It speaks to the target audience as much as the business owner would communicate to a client. After viewing a logo, a prospect could walk away feeling happy, thrilled, disappointed, or bored. This is how powerful this image is in the business world. You, therefore, need to create the perfect logo and get it right the first time if your ultimate goal is to stand out from the crowd.
But as you read this, there is one overarching question running through your mind – what makes the most famous logos so famous? Well, read on to find out!
What Successful Logos Have In Common
There are several factors that are present in all successful logos in varying degrees. They include:
1. Simplicity
Even though modern technology affords us thousands of graphic options to use in logo designs, the most successful businesses don't use them all. They believe that the best logo is one that sticks in their prospects' minds. To them, simplicity is critical. They know that an intricate logo is difficult to print, and cannot fully engage their audiences. Think of companies such as McDonald's, Target, Volkswagen, Apple, Microsoft, and more. They have simple and easily recognizable logos. In fact, some brands such as Target have logos that are so simple such that it's easy for children to draw and remember.
Instead of spending hours on end, adding nuisances and details to their logos, these companies found ways to take unnecessary things away and simplify their designs. This shows they thought about their brand messaging and what they wanted their logos to reinforce. Ultimately, simplicity won, and this is why they have been able to maintain unrivaled success for years.
In case you went for a complicated design because you believed it could contribute to the uniqueness of your brand, redesigning your logo and making it as simple as possible is one of the wisest branding decisions you can make.
2. Stylized Text
Another thing that some of the most successful logos in the world have in common is the use of stylized text. These logos have proven to designers and marketers that logos don't have to be all graphic to be successful. Sometimes, all that is needed is a simple text in stylized format, and the rest will follow. If you don't understand what stylized text is, think about these brands:
If you have looked at the logos of these giant companies keenly, you may have noticed that they don't have fancy graphics for their logos. They just have their brand names as the logo in stylized text, and this hasn't deterred them from becoming market leaders in their niches.
What you can learn from these brands is that as long as you get the right color and font, you can create branding magic out of your brand name. The only thing you need to do is use stylized fonts to add a feel of suaveness and personality to the logo and augment your brand identity.
3. Versatility
Successful logo designs are highly versatile. This means that they are not made for one specific purpose, but can be used in a wide array of applications without losing curb appeal. Scalable logos can be placed on presentations, graphics, websites, social media platforms, apparel, business cards, and more. Versatility is integral in successful logo designs because it helps brands reproduce their logos in a plethora of ways.

Image: Wikipedia
Successful brands don't go wrong in creating versatile logos. This ensures they font get lost when altering the logos' design or size when changing backgrounds. One of the best examples of a flexible logo is Under Armor. This brand presents its logo in black or white, but it often appears on clothes and other products in shades of reds, greens, blues, and more. Through the versatility of its logo, this brand is able to capitalize on different sections of its clientele populace and their tastes. This is how your logo design should be!
1. Memory Associations
The reason why some of the most famous logos you can think of have remained successful for decades is because they use memory associations. This is a psychology trick that designers should not overlook. See– one of the best ways to remember information is by associating it with something else in the environment. When the associated object is mentioned, the initial object is remembered with ease. For instance, when a person sees the image of a black panther, he/she is likely to remember Puma. This is the power of association this particular brand is linked to.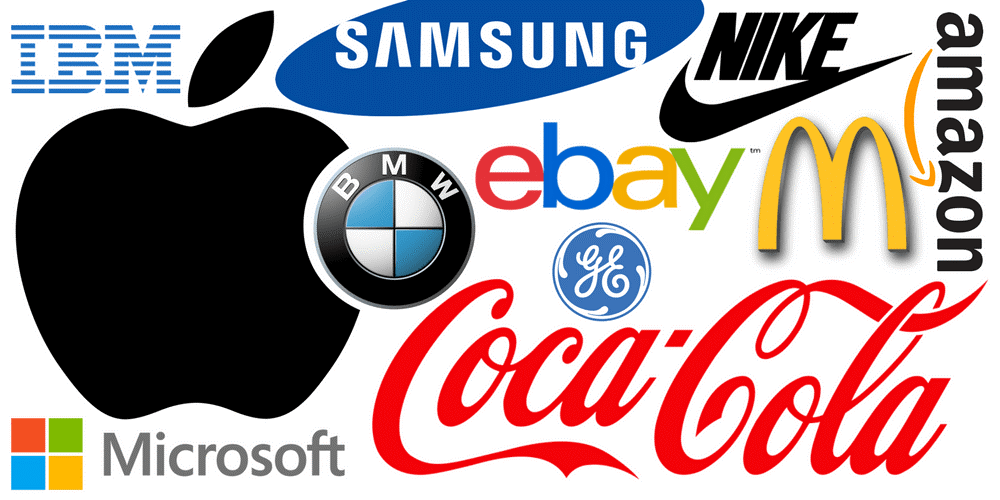 Image credit: MeasuringU
This trick has also worked for other notable brands, including Apple Inc., Disney, IBM, Audi, McDonald's, and more. Their logo designs contain evergreen ethos that cannot be forgotten. As you design your logo, utilize memory associations that will ensure your brand is recognizable in any era.
1. Minimalism
The most successful logo designs are minimalistic in nature. They convey the intended brand messaging with fewer intricacies. They don't contain countless characters, colors, shapes, and patterns that could make prospective clients claustrophobic. Without a doubt, minimalistic designs fetch more value than designs with lots of things going around because they are captivating and denote clear thinking. If you are looking for famous logos with minimalistic designs to borrow a leaf from, think about Netflix and McDonald's.
2. Finally….Successful Logos Are Professionally Designed
The common denominator that brings all the most successful logo designs together is that they are all professionally designed. They are created by the best experts in the logo design sphere. By looking at the impact they have had for decades, it's clear that they are not a brainchild of a novice or an amateur. Therefore, if you are looking for a timeless design that will ensure you join the bandwagon of successful brands in no time, work with a professional.
Even if designing technology and tools are in plenty, don't forget there is a lot of work and thought that goes into creating a successful logo. This is why you need to work with an experienced and skilled industry expert. This way, you will easily create a brand image that will be revered and remembered across timelines.
Author Bio
Maria Anton is a freelance content specialist who likes to help brands develop and grow. She writes about marketing, branding and advertising but open to other business topics as well. In her free time, she crochet knick knacks for her kids.