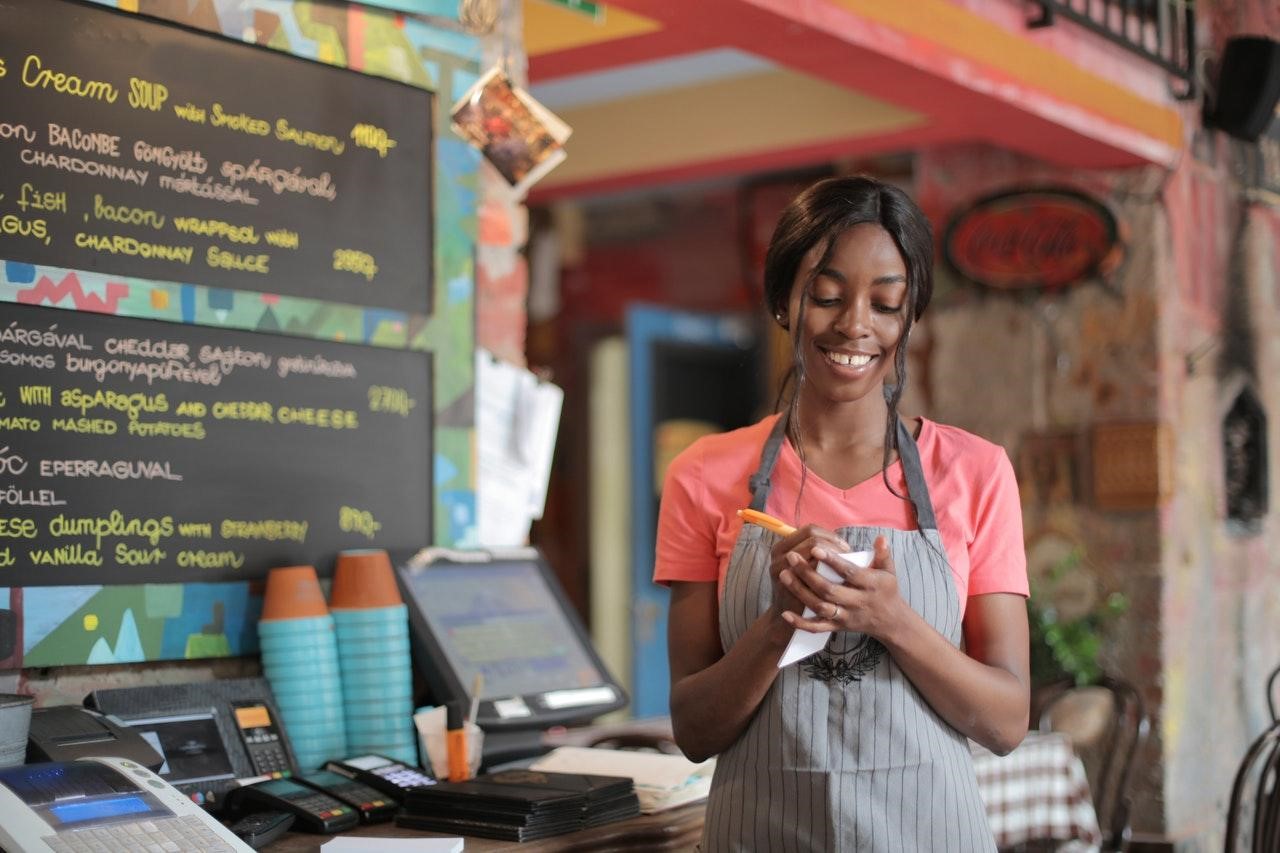 Maintaining a successful business is about more than simply attracting new customers. You also want to keep your existing customers happy. A loyal customer following can boost profitability, reduce marketing costs, and support sustainable growth. But just how are you supposed to create loyal customers? The key is to connect with them—and then ensure that they feel heard and seen. This guide explains how it's done.
Create a strong, value-driven brand
Your brand is the way your company is perceived in customers' minds. A strong brand has a clear message as well as a distinct visual identity (for example, the slogan and logo). Define a clear brand that resonates with your target audience. Start by writing down your core values as a company and considering how those can be reflected throughout every part of your organization, from your products to your marketing materials.
Ensure your website and social media reflect that brand
Once you've defined your brand, make sure every element of your marketing reflects it. For example, you can convey your brand image via social media by giving your posts some personality. Your website is another important part of your brand. Hire a professional like TechZo to create a branded website. They offer consulting, design, and marketing services, giving you the holistic support you need to develop and implement a business identity.
Organize your operations to make time for customers
Customers who identify with your brand's values want to feel connected to your company. Ensure streamlined operations, so you have time to engage with your business's supporters and make them feel heard. For example, forming a limited liability company will minimize administrative paperwork, freeing up your time to communicate with customers. A service like ZenBusiness can help you form an LLC in line with your state-specific guidelines.
Establish multiple communication channels for your customers
Now that you've got time for your customers, consider how you want to communicate with them. Super Office recommends an omni-channel approach to customer service. Use various contact options, from email to live chat and social media, to enhance convenience for your business's supporters. Make sure to check all of your customer service channels regularly to ensure you aren't missing any complaints, questions, concerns, or other issues.
Define a clear customer satisfaction guarantee
Finally, figure out what to do if a customer does have a complaint. Satisfaction is critical to maintaining loyalty. You want to make sure your clients are happy, so decide what kind of satisfaction guarantee you'll offer. The Conversation reveals that a money-back guarantee can actually be profitable in the big picture, for example, because it means the customer is likely to return. Plus, it generally reflects well on the company, enhancing reputation.
Nurturing a loyal customer base requires time and effort—and may even mean some monetary investment. However, you're sure to get a positive return on that investment, given the many benefits that happy, loyal customers hold for your business.
Want to learn more about keeping customers happy and building a strong brand? The TechZo blog has all kinds of content on how to build a thriving business. Check it out.
5 SEO best practices that work for eCommerce
Understandably, such SEO subsets overlap somewhat in certain areas. As such, let us begin with five eCommerce SEO best practices that are, in essence, general SEO best practices.
#1 Conduct keyword research
All content creation should begin with keyword research, and eCommerce is no exception. Thus, you should always start with proper keyword research to identify which topics and products best resonate with your audience.
Fortunately, many established vendors offer keyword research tools, including:
SemRush
Wordtracker
WordStream
Ahrefs
Ubersuggest
This is highly noteworthy, as content creation should be informed by your keywords, and not vice-versa. That is, you'd best avoid trying to retrofit old content around new keywords.
#2 Improve your site architecture to drive website sales
Another area where SEO subsets overlap is the website architecture of your eCommerce store. To appease search engines, provide visitors with a great User Experience (UX), and sell as much as you can, you should offer a simple, clean, and concise architecture.
Of course, this step hinges on navigation hierarchy. That is, visitors should easily navigate from one valuable page to another and from landing pages to product pages. For eCommerce specifically, this architecture should take a solid form like this:
Homepage to product categories
Product categories to subcategories
Subcategories to product pages
In all cases, a simplified navigation process enhances the UX and helps ensure more conversions and website sales. What's more, a tight internal linking structure will also appease search engine crawlers.
#3 Avoid cluttered URLs
On the subject of clarity, SEO dictates that URLs offer as much clarity – and information – as possible. The general guideline is for the header to match the URL as closely as possible. For eCommerce specifically, this is arguably even more crucial, as product pages serve as conversion touchpoints.
Here, instead of matching a header to a URL, you may consider a structure like this:
Yourdomainname.com/category-name/subcategory-name/product-name
To do so most effectively, you may follow such guidelines as the following:
Avoid repetition
Avoid unreadable URL parameters
Separate words with hyphens, and avoid other characters for this purpose
In all cases, remember that the goal is twofold; readability and clarity. You may approach these in any way you wish, but that's what your URLs should aim to achieve.
#4 Add alt text to images
Otherwise known as "alternate" text, alt text is among the first image optimizations SEO will suggest implementing. Alt text displays when images fail to load, translates images to screen readers, and informs search engines of their subject.
This is a crucial aspect of SEO that naturally concerns all industries. Alt text informs search engines of your content's likely subject and may allow your images to show up in image searches. It enhances the UX in case of failed loads and, perhaps most importantly, improves accessibility for visually impaired visitors.
#5 Analyze your competitors
Finally, as with all business endeavors, competitor analysis should always remain an option. Regardless of the industry, it offers an excellent window into how your competitors' tactics perform, in turn, informing your own.
Thus, you may analyze their pages, links, content, and any other aspect of their strategy you deem useful. Their success or failure with a specific keyword may inform your content creation, as can their layout choices. Conversely, a successful backlink strategy may help pinpoint who you should contact to best advance yours.
5 Ecommerce SEO best practices
Now, having analyzed general SEO best practices that also apply to eCommerce, let us delve into 5 industry-specific fronts.
#1 Go for long-tail keywords
This practice too sees use across industries, but many will argue it's entirely crucial to eCommerce specifically. Frankly, competitive keywords may not be within reach of many eCommerce stores. They will have to compete with such juggernauts as Amazon and eBay for SERPs – and, realistically, won't likely win.
Long-tail keywords offer the next best thing, providing distinct perks such as:
Lower average cost; fewer competitors will bid on "women's silk nightdress" than on "nightdress".
More local relevance; location specifiers, such as "best boots in Miami", help enhance local SEO and, in turn, local visibility.
More semantic relevance; long-tail keywords are more specific and thus more likely to match user search intent.
Thus, long-tail keywords may not just be the next best choice. For many, and for many purposes, they may be the best choice.
#2 Design for shoppers
Next, eCommerce best practices adjust the concept of "designing for users, not bots" to "designing for shoppers". The foundation, of course, remains the same; designing for humans, not search engines alone.
Frankly, this subject may deserve its own article, from design trends to UX enhancements. However, for the sake of text economy, let us address the fundamentals:
Ease of navigation; as highlighted above, shoppers should find your products quickly.
An alluring design; your layout, choice of color, and other visual elements should entice shoppers to stay and engage.
A short purchase process; your entire purchase process should be as short as possible to address conversion inhibitors.
Addressing these and similar factors will require a holistic approach. Therefore, you may conduct A/B tests as you implement changes to ensure you're always on the right course.
#3 Write unique product and category descriptions
Along similar lines, your product and category descriptions will massively affect both your SEO and UX. For search engines, they will provide context. For users, they will provide clarity.
For both, standard best practices apply; include your keywords of choice, be clear and concise, and avoid duplicate content. Doing so will ensure an accurate, alluring description appears beneath the title tag in searches. As above, this too will assist with both search engine rankings and attracting visitors. For the latter, specifically, you may get creative; consider humor or a tone that may set you apart from the competition.
As regards product pages specifically, however, eCommerce sites may struggle to avoid duplicate content. The sheer number of pages alone may necessitate that you do copy product descriptions. Still, both search engines and visitors may object, so the ideal compromise is to prioritize diversifying your most valuable pages.
#4 Optimize your product pages
On the subject of product pages, there is also a plethora of product page optimizations to consider. Again, for the sake of text economy, let us delve into the basics of this subject.
As with standard SEO guidelines, you may begin with common yet highly effective practices like the following:
Product name; add keywords of choice to your product names where possible.
Images; optimize your images for loading speeds, keeping them under 100kB without sacrificing quality. Add keywords and product names to their titles.
Video; add video where appropriate, including commercial, educational, and how-to videos, as well as customer testimonials.
Understandably, these tactics merely offer the foundamentals. You may then use page insights and other analytics tools to explore more advanced practices.
#5 Use customer reviews
Finally, having touched on customer testimonials, eCommerce famously values customer reviews. These arguably serve as social credit in terms of offering honest evaluations by other – ideally satisfied – customers.
While simply enabling customer reviews should typically suffice to drive sales, you may consider two additional benefits. One, more expensive products benefit more from positive reviews, as customers seek validation for their costlier choices. Two, customer reviews may actually benefit SEO, as they may typically include relevant keywords themselves. While neither benefit is crucial, they are both welcome in addition to the primary benefit of social credit.
Conclusion
To summarize, eCommerce SEO best practices may often overlap with general SEO. Examples of such practices include keyword research, ease of navigation, clear URLs, alt text, and competitor analysis. After all, these factors are arguably universally beneficial at their core. Others, however, need to account for eCommerce specifically. These often include locally valuable long-tail keywords, designing for shoppers, product descriptions and product pages, and customer reviews. However, in all cases, these practices should offer a healthy foundation toward satisfying both search engines and customers. Social media facts statistics